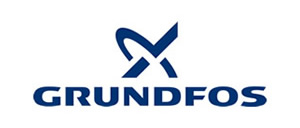 Grundfos Water Pumps was established in 1945 in a small town of Denmark, Bjerringbro. The company has been exponentially successful and GrundfosWater Pumps are now recognised worldwide as one of the leading pump distributors and manufacturers. With over 35 years of experience and innovation theynow have a massive annual production of more than 16 million pump units.  The Grundfos Group is represented by at least 80 other companies in more than 55 countries and is renowned worldwide as being the first choice for industrial, commercial and domestic applications.
Grundgos are well known for their circulator pumps, they are the world's biggest producer of these pumps and hold 50% of the world's market for these pumps.  Other well-known Grundfos products include:
Circulator pumps (for heating and air-conditioning)
Centrifugal pumps (for water supply, sewage, industry and dosing)
Standard and submersible motors
State of the art electronics for monitoring and controlling pumps.
Innovate waste water solution, BioBooster,
Lifelink water solutions in developing countries
In this age people require a reliable water source, heating and wastewater disposal. Grundfo is a world leading manufacturer of pumps in and around the home. Grundfos pumps are perfect for any new build and can be installed during any renovation project. Their pumping solutions aim to make every day living easier, more convenient and energy saving. Grundfos' innovate systems can use your rainwater to water the garden, boost and maintain water pressure and provide heating and water on demand.  Grundfos' range includes solutions for water supply, wastewater and heating. Grundfos mission is to continuously think and re-think builds to ensure that their clients are able to overcome both small and large scale challenges. They provide consulting engineers to ensure jobs are completed within allocated time frames and with minimal disruption. By using their in-depth pump and system knowledge, Grundfos work to ensure that buildings are sustainable and aim to keep energy consumption low.
Grundfos' water distribution pumps and systems are ideal for agricultural irrigation, using various techniques such as pivot,sprinkler irrigation and drip/micro spray applications to deliver water to crops. Their pumping systems, particularly the variable speed pump, ensure the right amount of pressure and flow is delivered without opting to oversize the pump and therefore wasting energy and water. Grundfos' waste water and sewage pumps handles all types of waste water including grease, grit and particles of all sizes.  Pumps can be customised to meet individual requirements and ensure wastewater is disposed of safety into the environment or sewage plant.
Grundfos Water Pumps prides themselves on running their business in a responsible and sustainable way. They continue to develop and manufacture products and solutions to help reduce the use of natural resources and reduce the impact on the climate. Their pioneering technologies aim to improve the quality of life for people and to ensure the plant is cared for. Gundfos consider themselves to be a socially responsible company and place great emphasis on taking care of the people that not only work for them but work with them.