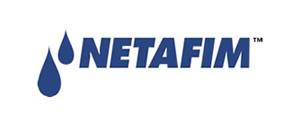 Netafim has a remarkable backstory which has ultimately changed the way irrigation is used worldwide.  An Israeli water engineer, Simcha Blass, first discovered that a slow and balanced water drip resulted in significant plant growth.  With this new discovery, he designed and created a drip-based tube device that released water slowly when and where it was most effective. Blass recognised the potential of his new device and turned to Kibbutz Hatzerim, a small agricultural community nestled in the Negev desert, Israel.  Bass was able to build on the strengths of the community's manufacturing capabilities and agricultural knowledge and establish Netafim's first production facility in 1965.
Netafim's primary goal is to develop irrigation systems to help people grow better and higher yielding crops but doing so using less energy and chemicals and above all less water. Continued innovation of Netafim's drip irrigation solutions saw the products rapidly spread worldwide. Netafim now has 16 manufacturing plants, 28 subsidiaries and over 4,000 employees worldwide. 110 countries and 2 million customers have benefited from Bass's discovery over the last four decades.
The company has a strong focus on sustainability and strive to find irrigation solutions that work with nature. Netafim continues to be the leading pioneers in the landscape drip irrigation industry.Drip irrigation is well known to use water resources efficiently. Netafim has developed, manufactures and distributes all necessary irrigation products including:
Drippers
Dripperlines
Sprinklers
Micro-emitters
Netafim Drip Irrigation Systems have also developed innovative crop management technologies to enable easy monitoring, control and dosing as well as a crop management software. Netafim's systems provide suitable irrigation solutions for agriculture, greenhouse and mining applications. Quality products are backed by an experienced service team which is essential.
Agricultural, Greenhouse & Mining Applications
Agricultural products include driplines, sprinklers, on-line drippers, valves, filters, polyethylene tubing, air vents, pressure regulators, water meters and crop management technologies.  For the greenhouse and nursery Netafim Drip Irrigation Systems provides bench pots, bedding plants, hanging baskets and nursery containers, eliminating the requirement for hand watering and reducing labour costs while still maintaining if not improving plant production and quality. Heap leaching used by the mining industry benefits from the broad selection of irrigation products provided by Netafim, including driplines, air valves, supply pipping, values and flow meters, all in which are produced in a variety of sizes and spacings to help ensure maximum ore extraction.
Landscaping Applications
Netafim's expertise extends further to the landscaping sector, including both residential and commercial projects.  Netafim Drip Irrigation Systems is the highest rated solution for efficient irrigation for sports fields, golf courses, residential and commercial landscape designs and even roof top gardens. Netafim's products are a low maintenance and cost effective irrigation solution making is assessable to projects of all sizes. Netafim's subsidiary company Bioline® uses a subsurface dripline to dispose of waste water, treating it to produce a productive irrigation source.