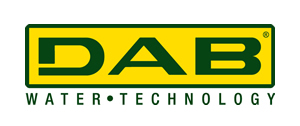 DAB pumps were established over 40 years ago, in northern Italy.  The founders of DAB pump have a true passion for innovation and quality which is reflected in their extensive range of motor-driven water pumps.  DAB pumps have expanded and the brand is now recognised in New Zealand, Australia and worldwide as a leading pump manufacturer and distributer. They have a proven reputation for trusted reliability across their product range and have a production of more than 2 million motor-driven water pumps annually.
DAB Water Pumps have an extensive range of pumping solutions to meet even the most specific of requirements and their pressure systems really can handle the pressure!  DAB pumps have a unique design, making them compact, self-sufficient and efficient and ideal for domestic, rural, civil and industrial uses.
All DAB pumps are issued with a 2 year warranty and are known to last beyond 20 years. DAB pumps are a great choice if you are looking for a pump that you can rely on, is built to last and reasonably priced.
DAB pumps service a wide range of sectors and as a result their innovate product list is vast:
Command and Control Systems
Circulators
Electronic in-line pumps
In line pumps
Multistage centrifugal and self-priming pumps
Swimming pool, pond and salt water pumps
Electronic centrifugal pumps
Centrifugal pumps
Submersible pumps
Pressure Units
Fire fighting
DAB is a sector leader in the innovation of technologies for the movement and management of water.  Their technological solutions are reliable and efficient and are designed to optimise energy consumption in domestic and residential buildings, commercial buildings, agricultural applications and irrigation applications. DAB innovation identifies opportunities for simpler installation, use and the maintenance of its products.
Applications
Domestic: For around the home and in the garden, DAB has produced a list of products that are technically advance, reliable, efficient, easy to install and energy saving. DABdomestic productsinclude heating and air conditioning, water supply and pressurisation, irrigation for the garden, use of rain water, drainage collection and disposal of waste water and circulation.
Commercial: DAB has developed advanced reliable solutions for many commercial application sectors including pumps forheating and air conditioning, water supply, fire-fighting system pressurisation, and the disposal of waste water.
Agriculture: DAB has highly efficient and reliable pumping solutions for the extraction of subsoil water for agriculture and irrigation purposes. Their solutions include high quality submersible pumps and motors, reliable and high energy efficiency, and a wide range of products and solutionsto meet individual requirements.
"Simple and efficient solutions are the biggest types of innovations. The
technology of our products speaks the same language of those who buy
or use them. This is our strength."
Sandro Stramare, DAB Group CEO