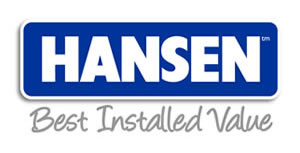 Hansen has a reputation for distributing high quality, simple and easy to use products.  Bert Hansen, begun developing fittings in the 1950's when he was unable to source a reliable toilet valve during his home build. He went on to develop brass foot and check valves and quickly had these patented and founded the Hansen Products company. Hansen Products soon became the bench mark for industry standards and the original design is used in numbers of valves in worlds today. In the 1970's trends saw Hansen redevelop the existing range and had the range manufactured in plastic.  Hansen continued to add new products to its range and Hansen Products are now demanded all over the world including a strong following in Australia and New Zealand.  Hansen has continually developed its products and all are constructed of high performance materials.
Pipe Fittings
Hansen's Easy Fit Pipe Fittings range is well known for its reliability, simplicity and ease of use. All pipe fittings are made of high quality materials, have a smart design and made with customer's needs in mind. Hansen's pipe fittings are strong, compact and lightweight and are available in a selection of thread combinations and connections. Pipe fittings are suitable for both above and below ground use and can operate in varying pressures and temperatures.
Threaded Pipe Fittings
With over 250 products, Hansen has the largest range of commercial quality threaded pipe fittings in the southern hemisphere. These fittings are made from high quality glass fibre reinforced with nylon making them very durable, and resistant to bacteria, fungi, termites and weather. These fittings are most commonly used in horticultural, irrigation, plumbing and agricultural applications.
Tank Fittings
Hansen's has an extensive catalogue of tank fittings including female and male fittings and tank plugs. Suitable for use in tank, troughs and marine applications. Tank fittings are made from materials approved for use with potable water and are available in sizes 15mm to 1000mm.
Trough & Tank Valves
Hansen have developed a compact and lightweight valve capable of delivering high volumes of water quickly. The valve increases efficiency by reducing the amount of sticking and its ability to operate in clean or dirty water applications. Hansen valves requires less operating pressure, therefore reducing pumping costs without compromising flow. Hansen valves are made from non-corrosive, UV stabilised materials and are available in female and male BSPT, ACME and NPT thread configurations.
Irrigation
Hansen Post Risers can be used in orchard, vegetable, pasture and domestic irrigation systems.  These products are made from glass fibre reinforced nylon quality materials, are strong and UV resistant. Hansen post rises are fully adjustable to fit any post shape and are quick and easy to install.  Hansen's catalogue also includes sprinklers suitable for garden, glass house, flower, landscaping, display pot and commercial building applications.
Hansen Products also include a wide range of reservoir & tank valves, tapping saddles, unions, and couplings. All Hansen products have been designed with their "Keep it Simple" philosophy and made for high performance.